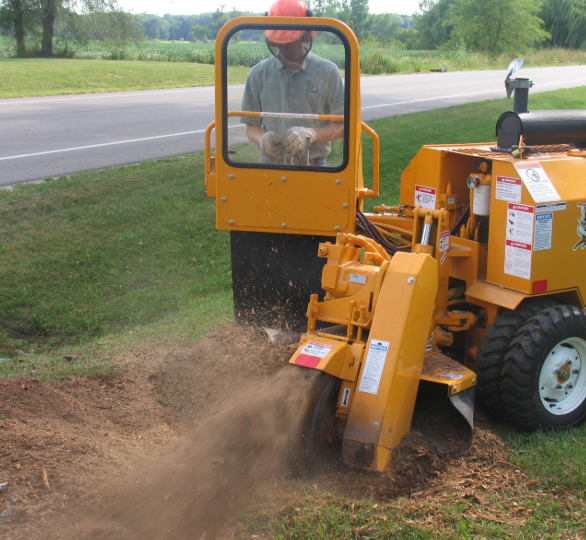 For the best tree care results, make sure to always talk to companies that are not only seasoned and experienced but are also knowledgeable in providing quality yet cheap tree service. Whittier Tree Service is all about providing clients with premium tree service at an affordable cost. We offer quality tree services like tree cutting, stump removal, tree trimming, bush trimming, cabling and bracing, emergency tree services, tree pest control, stump grinding, and more. Contact any of our highly trained arborists today. Message using our contact form provided. Simply fill out the form and we will get back to you in a short while.
Tree Stump Grinding Service in Whittier, CA
If you are thinking about grinding a huge stump on your property into nothing, or if you have lots of unattractive stumps lying around which can pose danger to other people, then you came to the right place. Whittier Tree service specializes in tree stump grinding and helps clear your land from those stumps. We have advanced equipment and we use only the safest and most efficient practices in the industry.
Having tree stumps on your yard can be a hazard especially when you have kids running around the property all day long. These stumps can also be unsightly obstacles if you are going to finish a project in your yard. Luckily, Whittier Tree Service can get rid of those hideous stumps easily. Our arborists and tree experts can efficiently remove them and clear your yard safely.
While it is always possible to rent a grinder and do the stump grinding project yourself, sometimes getting rid of those big and heavy tree stumps can pose more problems than you think. Working with Whittier Tree Service and allowing our expert arborists to do the stump grinding task for you can be totally convenient. We can finish the job as fast and as prompt as we can, leaving you with a much cleaner and safer lawn or property. And as for you, you do not need to go through those hassles.
Whittier Tree service provides all our clients with fast and reliable tree care services, whether you need a stump to be grinded away or an entire lot that needs to be cleared, we are the company that can and will always get the job done – the right way. 
Aside from our tree stump grinding service in Whittier, CA, we also offer bush trimming jobs, tree cutting and trimming, bracing and cabling, tree pest control, pruning, emergency tree services, stump removal, and more.
About Whittier Stump Grinding
Stump grinding is one of the processes wherein reputable tree care companies use to get rid of tree stumps. They do this by grinding the entire stump down until it is flat and level or to the owner's preferred stump height. Usually, clients opt to use stump grinding for those nasty smaller stumps sticking up on the ground and can be dangerous especially during the night as this can cause you to stumble or stub your toes.
Stump grinding is perfect for those who want a cleaner, safer, and stump free yard without having to excavate the property for the root. After our tree experts are done, all that will be left are sawdust. However, if you want to get rid of those stumps entirely, you can also contact us for a stump removal service.
Contact Whittier Tree Service Today
For all your tree care services, contact the best company in the business today. Fill out our contact form and we will get back to you shortly.
Tree cutting service, bush trimming job, stump removal, stump grinding, and tree pest control, our arborist and tree doctors can surely provide you with the right solution. Contact us today for that premium yet cheap tree service. 
Fill out the contact form for free estimates.